Question

How can we lower the communication hurdles for businesspeople who work remotely and provide an environment that is more exciting to work in than in real life?
Outcome

Developed a product that focused on the challenges of online communication. As a result of the empathy we gained, the number of initial test users exceeded 10,000 in one month. The service has grown to become a symbol of change for the giant company.
Agile as "one team"
With the challenge of developing an online communication service to support the rapid spread of remote work during the pandemic, NTT Communications' development team, designer organization KOEL, and various players with different backgrounds from group companies gathered together in the spring of 2020. In order to respond quickly to market needs, an agile development project was implemented in just two months.
Before beginning development, the team first organized their work style and collaboration style. Everyone involved became "one team" and worked together.
A perfectly-sized "Inquiry"
Amidst the many global companies already occupying the market, we imagined the future of work based on user insights and by quickly incorporate unique UI/UX designs. The starting point for this process is the right 'inquiry.' Not only does it provide clarity of purpose, but it also serves as a springboard to enrich the creativity of team members.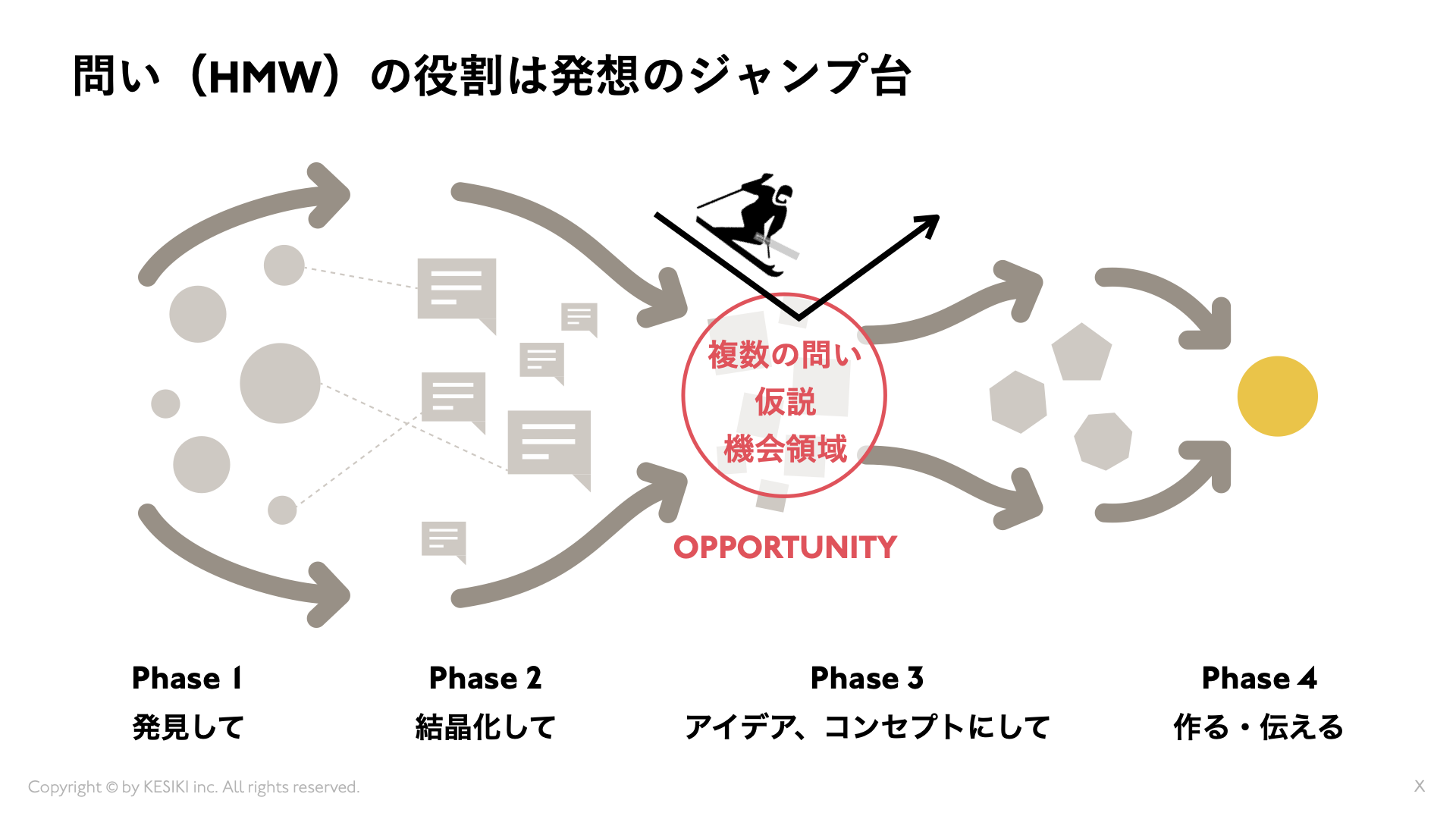 The initial inquiry established was "What kind of video conferencing service should we create?" However, this was too abstract and difficult to extract ideas from the team. The question was then refined to address users' and society's concerns and challenges.
The team first conducted interviews with extreme users and professionals. Through repeated diffusion and convergence, they transitioned to the big question of "what will the future of work and communication look like?"
After going through many hypotheses, the team focused on the perspective that "casual communication and serendipity are lost" and "the future of work will be born through organic connections between people." They derived the concept of an "online meeting service that generates casual communication."
Comfortable colors, shapes, and experiences
To establish a long-lasting service, it's necessary to create something that people want to use again and again. It was difficult to gauge interest because "comfort" cannot be measured by a single standard; It arises from the subtle nuances that humans perceive due to complex environmental factors.
How can we provide an environment in the virtual world where people can work with more excitement than in a physical workplace? We thought about how to create this "comfort" even in a digital service, and we gave direction to the colors and shapes accordingly.
Instead of creating a UI that mimics an office space, we designed "bubbles" to create a sense of excitement unique to the virtual world. Our inspiration came from the natural phenomenon of two drops of water merging into a single one. We wanted an organic interface.
In addition, we added features to lower the barriers to "talking" and "listening." Icons show a person's status at a glance, indicating whether it's okay to talk to them or whether they're in a meeting or focused on their work.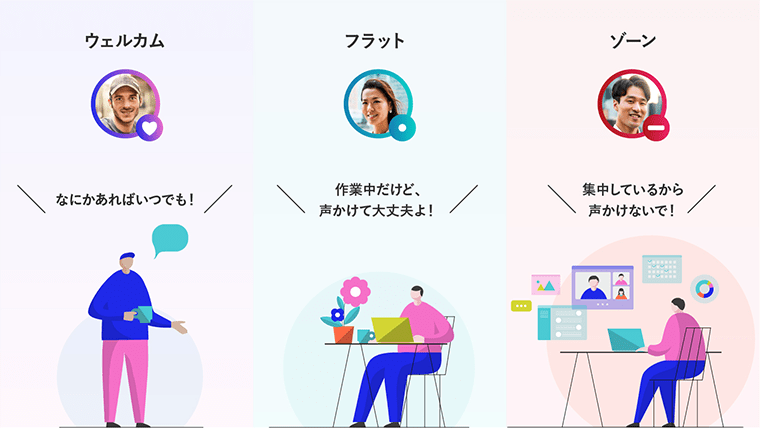 To achieve open communication, we thought about lowering the hurdle of "just listening." We developed the "eavesdropping function" to convey both a person's status and intention visually by indicating that they can only listen in the moment. This is a feature unique to online communication.
The released service exceeded our expectations, with over 10,000 registered users in one month. We continue to improve the service to create a new work culture and contribute to the changing work style of society.
Creative Direction : KESIKI
Learning
Our team aimed to create a comfortable online work environment with this product. Through user interviews, we discovered various elements that make people feel comfortable, such as "a sense of belonging," "the presence of colleagues," and "a sense of security in being able to consult with others". In addition, we had many realizations about our own work style, organizational structure, and communication during this process.