Question

How can we develop businesspeople with a high sense of beauty and the power to give shape to their ideas through design education?
Outcome

Over 150 participants (as of April 2022) from a wide range of affiliations have been installed with the skills and mindset to create beautiful businesses. Graduates have taken concrete actions such as launching new businesses and divisions, starting businesses with other participants, and reviewing their own careers.


Articulating the process of design management
In confronting various companies and administrations, we feel that Japan has not yet fully embraced the idea of "design" compared to other countries. We felt the need for education about design thinking.
Amidst this situation, we received consultation from Kazufumi Nagai, representative of HAKUHODO DESIGN who was also involved in the Japanese government's declaration of "design management," about establishing a design course for business professionals at Tama Art University. We participated in developing an educational program that promotes business through design methodologies.
As program director, Shun Ishikawa and program tutor, Fuyuto Onuki, joined in developing the program content together with Kazufumi Nagai, and Kuniharu Saigo of the design firm BIOTOPE.
What are the elements of beautiful business?
The first topic of discussion was education policy. Under the mission of "bringing creativity and aesthetic sense to business through design," the following six guidelines were born.
Embrace ambiguity
User Insight
Iteration
Culture Design
Mission Vision Beacon
Beautiful Business
Next, we identified the key elements that would form the backbone of the program, from setting the purpose, to framing the questions, to designing the UI/UX. Pursuing beautiful business requires a diverse range of design approaches that are consistently connected in a loop, linking organizational culture and innovation, and ultimately leading to sustainable social implementation. Based on this hypothesis, we designed the program.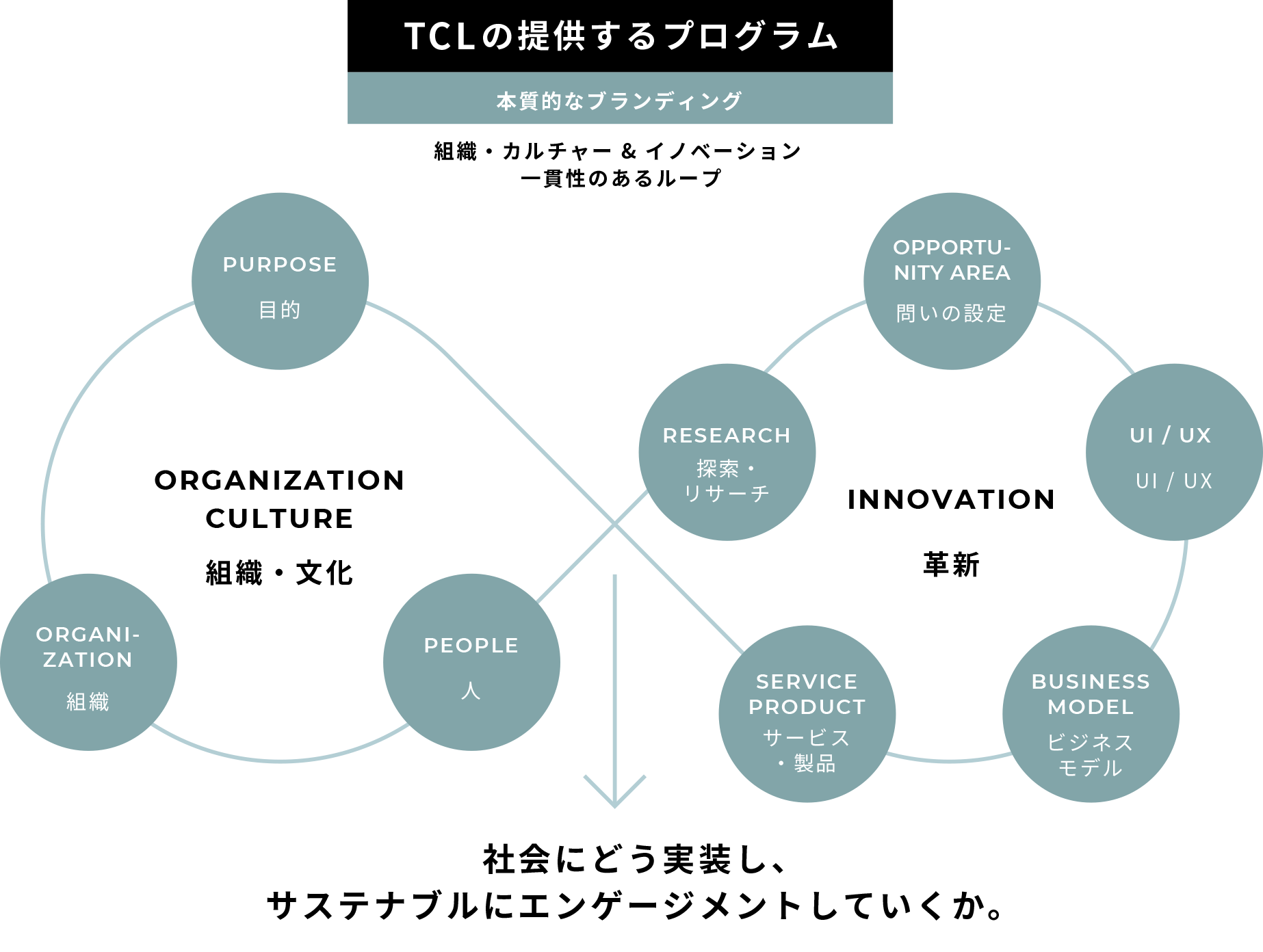 Teacher and student become one entity
Next, we focused on designing the program that combined learning and practice, dividing it into phases such as exploration, creation, and experimentation, and condensing it into a three-month program that takes place over 11 days (held every other Saturday). This hybrid program combines lectures by guest speakers such as designers and corporate executives with practical learning through project planning.
We were mindful not to "teach too much" in the program. We designed a framework in which the lecturer and students collaborate to create a "beautiful business" that takes into account social, cultural, and economic factors, intentionally providing assignments with no clear answer. We also designed a mechanism for continuous improvement of this new educational approach.
The program is regularly updated based on feedback from students. Despite the difficulty of having students from a variety of backgrounds, ranging from designers to those who have never worked in design before, we created an environment in which each student could pursue their own inquiry.
In addition, design students from Tama Art University also participate in the program as supporters. They seem to benefit from exposure to the ways of thinking of business professionals and adults, and gain new insights and inspiration from it.
Impact on Society
The participants in this program come from diverse backgrounds, including trading companies, manufacturers, media, in-house designers, foreign consultants, and government officials. Around 30 people are deepening their learning through group work and individual tasks.
Many people have given us feedback on this program, such as "Until now, I thought my boss or company had the answers. It was the first time for me to ask questions myself and explore answers without a clear answer," or "I learned the importance of continuing to struggle with uncertainty and ambiguity." These comments get to the heart of the essence of design. Many participants have changed their fundamental approach to how they think about things.
As of April 2022, 150 graduates have already emerged from the program. They are making strides in their respective fields, such as a CEO of an IT company who is considering new business models and driving cultural change within the company. Others have moved to design organizations and started challenging themselves by combining business and design in a major manufacturing company's strategic planning department. Three bureaucrats who participated in the program at the Ministry of Economy, Trade and Industry began an activity that later developed into the "JAPAN+D" project.
Learning
By systematically incorporating the accumulated know-how of design thinking and culture design into the program and iterating through feedback from participants, the KESIKI methodology has been crystallized. Many participants have already produced results, and they realize the importance of this grassroots approach. TCL's mission to create "beautiful businesses" is closely related to our goal of creating "a kind economy." We have also been reminded of the value of creating businesses that possess cultural as well as economic and social aspects.