Creating the future of what lies ahead
From 2021 to spring 2022, NTT Com opened a new business co-creation program called "OPEN HUB for Smart World" and a workplace called "OPEN HUB Park," equipped with cutting-edge technology.

KESIKI provided comprehensive direction from concept planning, team formation, program design, organizational design, VI direction, media and community conceptual design, and space concept design. Also, by forming a strong team with architectural design office noiz and creative studio Whatever, KESIKI brought OPEN HUB to life in collaboration with NTT Com.
The preparation period lasted for about a year, and it started with a re-examination of NTT Com's management issues.
In an era of unpredictable change and increasingly complex social issues, it's important to not only connect but also to explore "what kind of future we can create through connection." Working alone as a single entity has its limits.
NTT Com has connected various people and companies, such as corporations, regional communities, and consumers. In 2020, they announced their business vision "Re-connect X™," which aims to redefine the value of everything connected via communication and work towards a sustainable future by "reconnecting" through co-creation for security and flexibility.
The future of "physical places" in this era
Why "physical places"? What can we do to utilize our strengths and respond to the times? These were the first questions we asked ourselves. Many Japanese companies are already operating open innovation bases and collaboration workspaces, but there is already a saturation point. Not all of these places are functioning properly. Simply creating a space without designing the content of who and what companies gather and what activities they will undertake cannot fulfill their intended roles. Moreover, as remote work has become standardized, we must consider the significance of creating a real "place" and integrating it with digital spaces.
What kind of "places" are needed to generate essential co-creation that will create a truly rich society? Do we need organic places filled with lively dialogue and accidental encounters? What will be the future of "places" that freely mix the real and the digital?
Through discussions on these questions, the necessary elements for a vibrant co-creation space have emerged.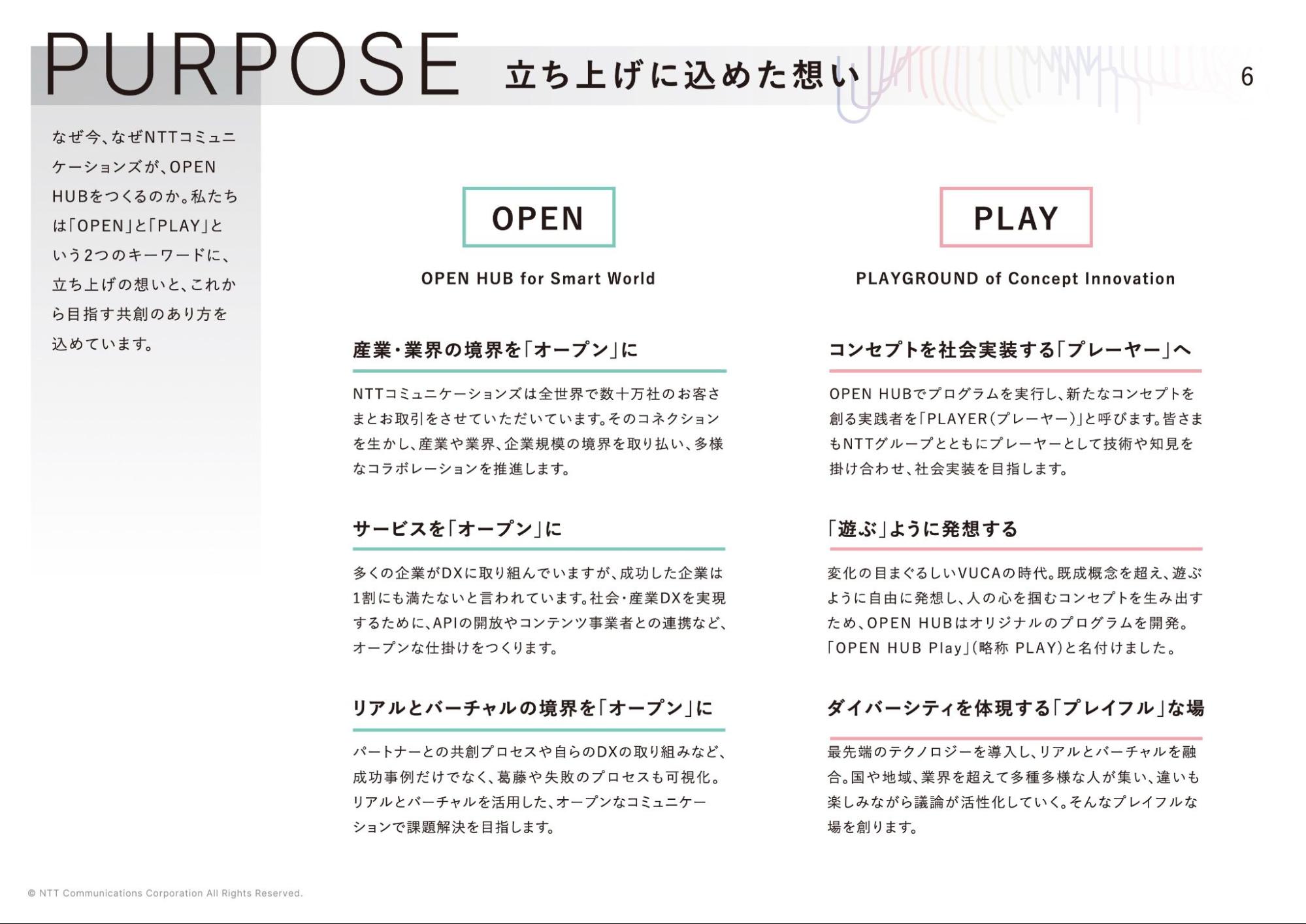 The keywords that became the axis of this project were "OPEN" and "PLAY". The concept of an "experimental field" where people can freely experiment and iterate like playing, crossing the boundaries of companies, industries, and the physical and digital world, was verbalized.
The "Catalysts" as a hub for co-creation
The most important thing is "people". The Catalysts are people who connect individuals, companies, and communities with common challenges, and work together to develop new solutions and promote experimentation and social implementation. Even with the best location and technology, co-creation cannot occur without such people.
At OPEN HUB, these individuals were selected from NTT Com's internal and external networks and named "Catalysts". Unique employees from various departments within the company, such as those working on new business ventures or with specialized knowledge, were selected. Experts from various fields outside the company were also appointed as Catalysts. Not only did they select Catalysts, they also designed a system to generate collaboration with these Catalysts at the core. They designed the organizational structure to support co-creation, the code of conduct for those involved, and training programs for development.

The next thing they designed was the "program" that would guide Catalysts in creating business concepts with companies and partners. In order to create businesses that solve social problems, the way we work needs to change from pursuing accuracy to valuing exploration and experimentation in the process. They prepared a model for the program so that anyone, regardless of their background or company, could pose good questions and explore their answers. They verbalized the broad flow and detailed actions and processes such as workshops and ideation methods.
They then implemented a Beacon project in the project team according to the program. They developed a concept for a new business and made improvements based on the difficult or uncertain parts of the program. This is the foundation for future updates and improvements to the program through its repeated operation.
A place where you can go back and forth between the real and digital worlds.
A space where you can move back and forth between the real and digital worlds: the design of this space was discussed in collaboration with the architecture and design firm noiz, which is based in Japan, Taiwan, and Warsaw. The key to this design is the chance encounters, inspirations, and sensory experiences that can only happen in a real space. Despite being located in the heart of Otemachi, we aimed for an organic design that would allow people to experiment freely and naturally.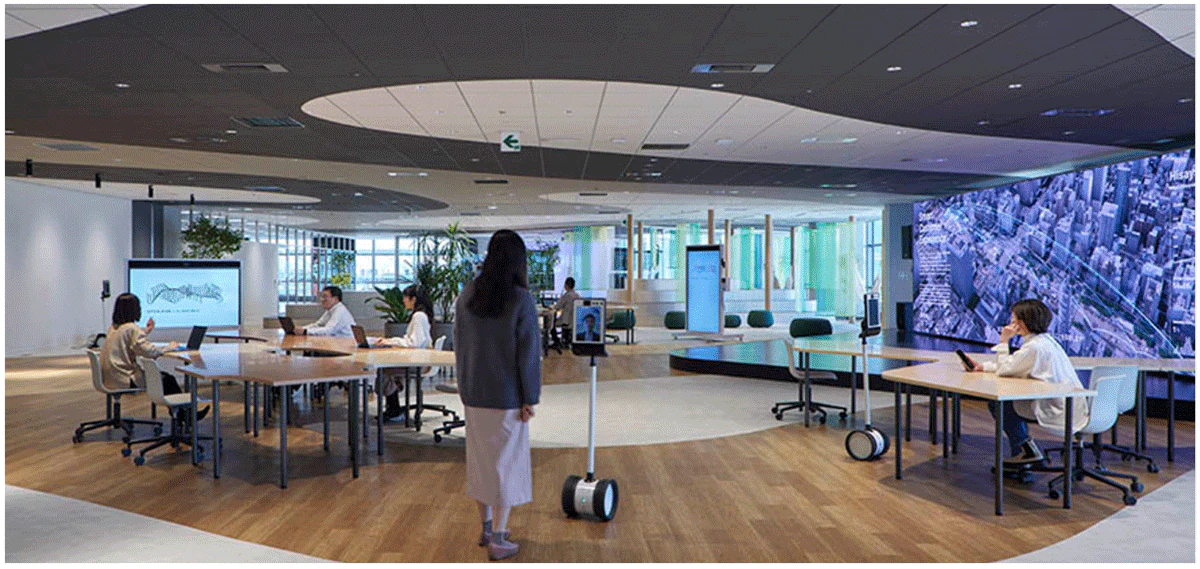 At the same time, we also designed virtual experiences that are connected to the real space. Our partner for this was the creative studio Whatever, which specializes in digital and experiential implementation. The latest technology from a leading communications technology company and creative design that is attuned to human experiences intersected in this project. We also introduced features such as "Robot Visitors," which allows remote participants to experience the venue or event as if they were there, and "Visualizer," which enables participants to experience NTT Com's big data in a physical way.
Furthermore, we planned the concept for a website where events and collaborative projects that take place at OPEN HUB are aggregated. This website includes content such as a web media that focuses on a particular theme every few months, a community, and event broadcasts, allowing people to experience OPEN HUB online.

The CI/VI was commissioned to Okamoto Ken Design Office, led by graphic designer Ken Okamoto that has a vast design history, including the packaging for department stores. The office visualized the scene where various people and companies mix flexibly and create a future.
Signs of Change for Social Implementation.
This way, many people got involved, and the "people," "technology," and "space" came together as a triad to create a process for co-creating businesses from a starting point of social issues. The program was launched in autumn 2021, and the workplace was opened in spring 2022.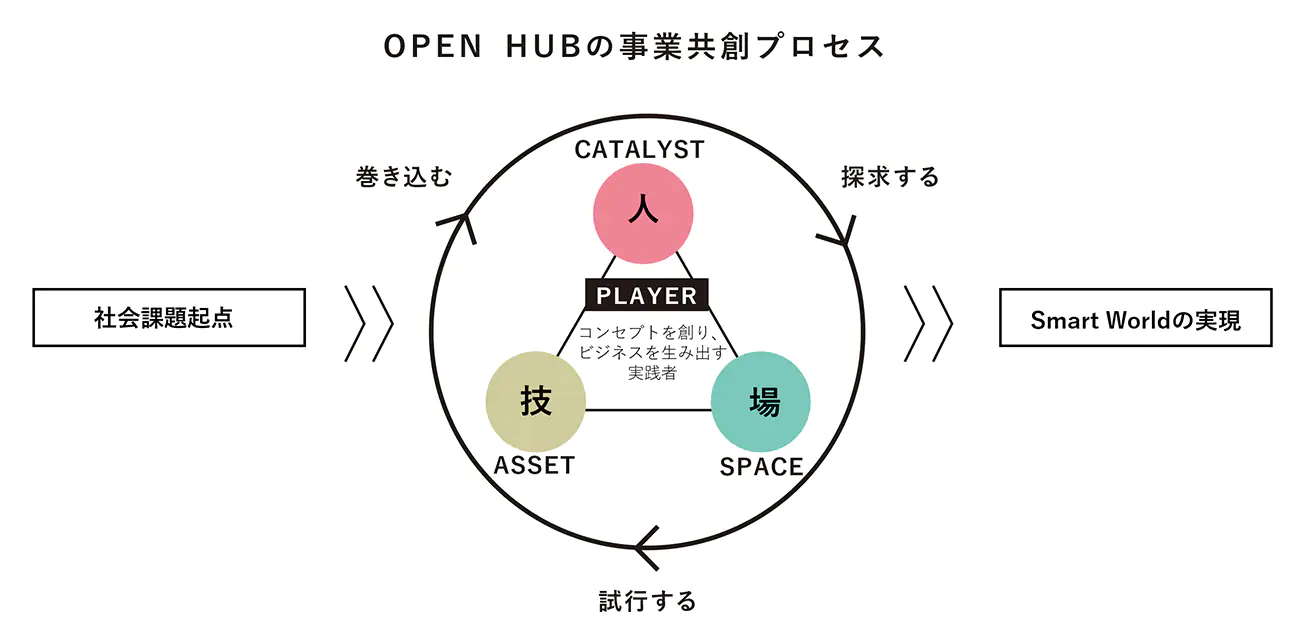 As a result, OPEN HUB Park has attracted many large corporations, with more than 100 companies requesting visits and reservations booked for several months ahead. Various activities, including events that are held online and in person simultaneously and workshops with companies, are being conducted every day, and new businesses are being born. It is a sign of a transformation toward social implementation.
Overall direction : KESIKI
VI and sign design : Okamoto Ken Design Office
Space design : noiz architects
Digital experience : Whatever Inc.
Production management : xpd Inc.
Learning
This project involved hundreds of people, from discussions with NTT Com's top management to coordination between the on-site architecture team and engineers. It was the biggest project that KESIKI had ever taken on, and experienced firsthand the dynamism of involving diverse people through a concept-driven approach.
On the other hand, there were also challenges in generating strong driving force within such a large organization. However, through the process of co-creation and experimentation, momentum gradually began to build both inside and outside the company. Planting the seeds of change in the community was a significant achievement.